WELCOME TO THE JAKO NEWS BLOG
With the Balkan Lynx to UEFA EURO 2020
These are the new kits for the national football team of North Macedonia!
When North Macedonia makes history at UEFA EURO 2020, the country can rely on the symbolic support of the Balkan lynx. The snarling face of the feline predator characterises the new jerseys presented today by kit supplier JAKO and the Football Federation of Macedonia (FFM). The south-eastern European country has qualified for an European Football Championship for the first time ever. The Balkan lynx is a national symbol of North Macedonia and is shown for example on the 5 denar coin.
The home jersey is designed in a modern interpretation of the national colours, with the Balkan lynx embossed centrally on the front of the red jersey. The neon-coloured design elements in the sleeve and shoulder areas follow the style of the lynx graphic. The chest area on the heart side shows the FFM emblem, the player number in the centre and the JAKO lettering on the right. Side inserts, the collar and the white JAKO dots in the shoulder area complete the design.
On the second jersey, the feline predator appears in light grey on a white background, with the golden design elements forming a colour contrast. On the third jersey, the Balkan lynx stands out in light grey against the anthracite-coloured jersey, the design elements are orange. All shorts are designed in the same colour as the jerseys, the side inserts and the JAKO brand symbols are colour-coordinated with the respective design elements of the jerseys.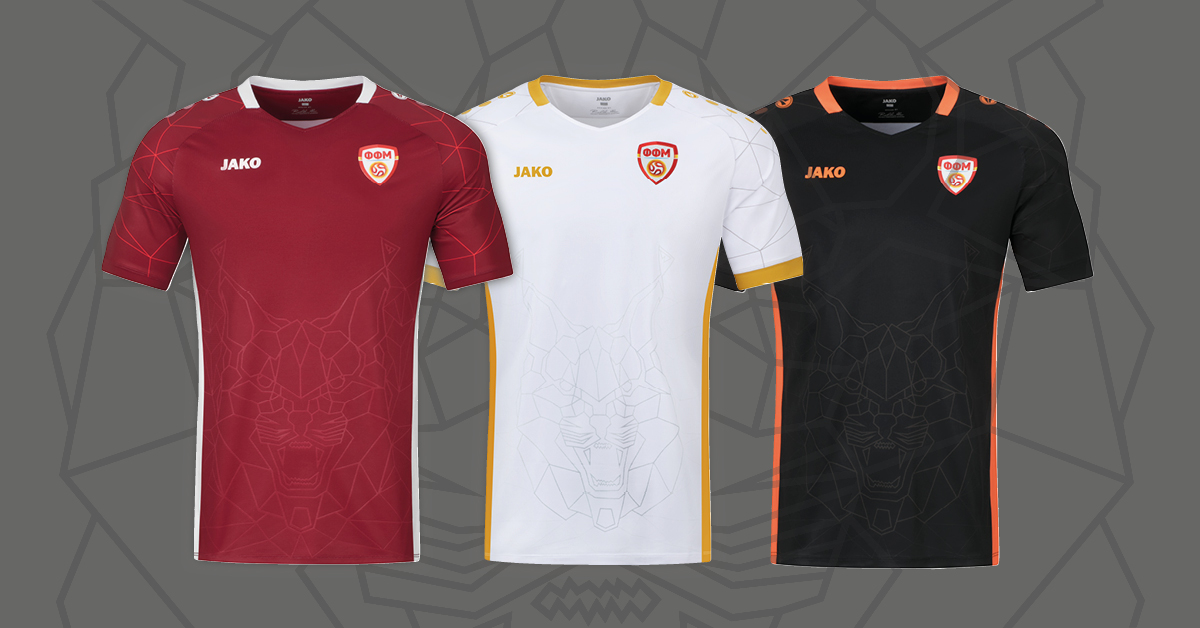 An important role in the design of the new jerseys was played by Rahila Iliev from the FFM. She has already been involved in the design of previous national team jerseys. The national players as well as the fans of North Macedonia can identify with the Balkan lynx as a national symbol. At the same time, it is a statement for environmental protection. The Balkan lynx is classified as "Critically Endangered" in the Red List of the International Union for Conservation of Nature (IUCN). Most of the animals living in the wild are found in the Mavrovo National Park in north-eastern North Macedonia.
The jerseys will be worn for the first time at the European Football Championship on 13 June in Bucharest against Austria. In Germany, the jerseys are now available from selected retailers.